Patients keep cardiovascular risks at bay and manage their health at their fingertips- CHARLI
Charli (Cardiovascular Health Application and Real Life Integration)
ConnectedLife with Fitbit and Our Hearts Our Minds collaborate to further reduce the risk of heart attack or stroke with an innovative programme 'CHARLI'. The programme is based on research carried out at the Western Health & Social Care Trust by Dr Susan Connolly and her team.
CHARLI is a unique remote monitoring program which helps your doctors stay connected to you and monitor your recovery 24×7. This would also help you get back to your routine activities as early as possible.
Cardiovascular disease progresses and manifests itself differently in each patient. The innovative solution has a dashboard that helps the patients to keep a track of the body vitals including blood pressure and mutable body weight. It also allows the user to monitor heart rate and physical activity statistics. The dashboard is closely monitored by medicine experts who schedule and readjust your medication. Furthermore, it ensures that the user is sent notifications and constant reminders on the watch to keep them on track and achieve their milestones.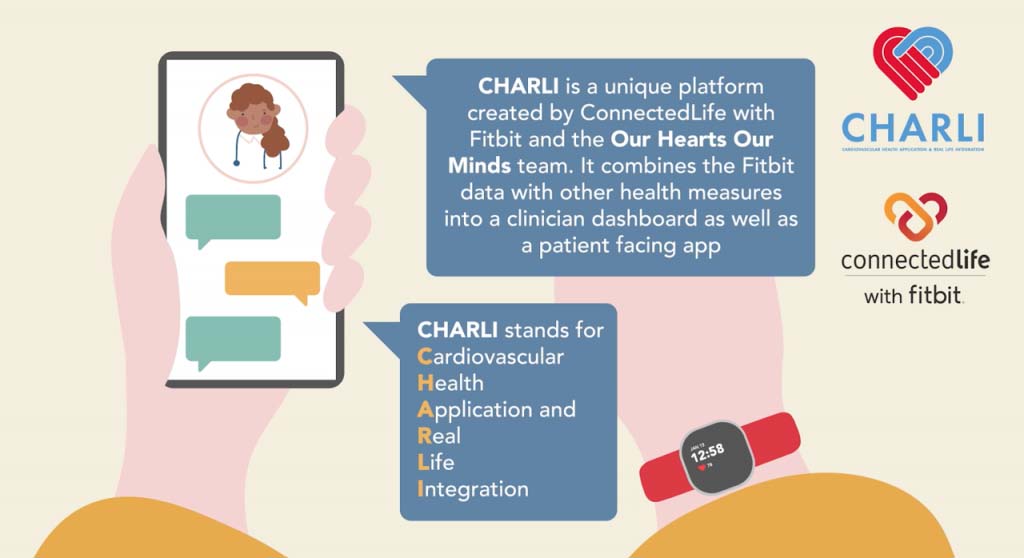 Why CHARLI? 
CHARLI has been designed especially for patients living with, or at risk of developing cardiovascular diseases. The programme has already reached over 600 patients with 90% of them completing the programme.
We are transforming care in ways that were previously unimaginable. Post the 12 week programme, the patients showed the following clinical improvements in their lifestyle:
Clinical improvements shown after the 10 week programme:
90% of patients achieved BP and cholesterol targets,
Recorded an increase in the fitness levels,
Increased adherence to a Mediterranean diet,
Average weight loss of 2.2kg, and cut off central obesity,
Reduced anxiety and depression,
Reduced the urge to smoke,
90% of patients achieving BP & cholesterol targets
Improve in the healthy fruit and vegetable intake.