Chronic Conditions Management
Chronic Conditions Management
The solution for users and Support teams to monitor and manage chronic conditions
Wellness Plus is designed as a comprehensive solution for chronic condition management, leveraging AI and cognitive behavioral science to promote positive lifestyle changes. By providing personalized wellness plans and real-time insights, the platform can enhance engagement and foster better health outcomes for users. Powered by AI, the data platform of Wellness Plus can collect and analyze a wide range of biomarkers and health data.Wellness Plus aims to make health data more accessible to users and support teams. By providing easy access to relevant health information, individuals and their healthcare providers can make better-informed decisions regarding chronic condition management. By integrating cognitive behavioral science principles, Wellness Plus can effectively educate, engage, and inspire users to adopt new and healthy habits.
Chronic Condition
Management
The Wellness Plus allows users to enhance their health metrics by capturing new data sources to layer onto existing medical data. Our dynamic solution safely and securely captures health, lifestyle and behavioral data for a truly 360° user view. Gain real-time insight into each user to drive tailored health solutions.Users are able to capture and monitor Fitbit data and self-logged metrics such as BP, Lipid, HbA1C, HRV, HR, SpO2, temperature, sleep, exercise and activity to the platform. Aggregate data helps identify at-risk populations and health trends for improved, proactive care.
The solution offers multi-organ evaluation using  AI-enabled risk scores. A customised Wellness Plan designed for individuals based on risk assessment comprising screening, vaccination and chronic condition management. The platform assigns a health coaches for regular reminders and guidance to stay on track.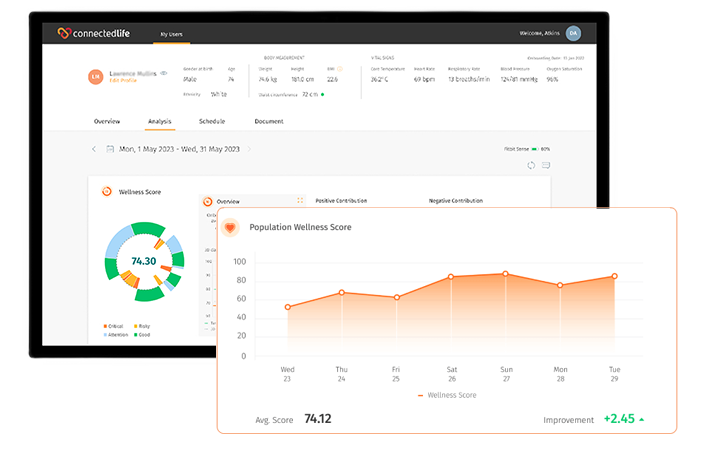 Monitoring & Assessing
Users
The platform offers timely intervention through regular monitoring to enable place-based care. Dedicated health coaches can, with advanced sensor technology, regularly monitor user's health parameters, manage their treatment plans, and prevent the worsening of conditions and diseases from developing streamline 24/7 customer care.
Wellness Plus deliver the right information, to the right person, at the right time to improve care for better user outcomes. Powered by advanced data and analytics, our dynamic wellness score provide real-time health and risk scores.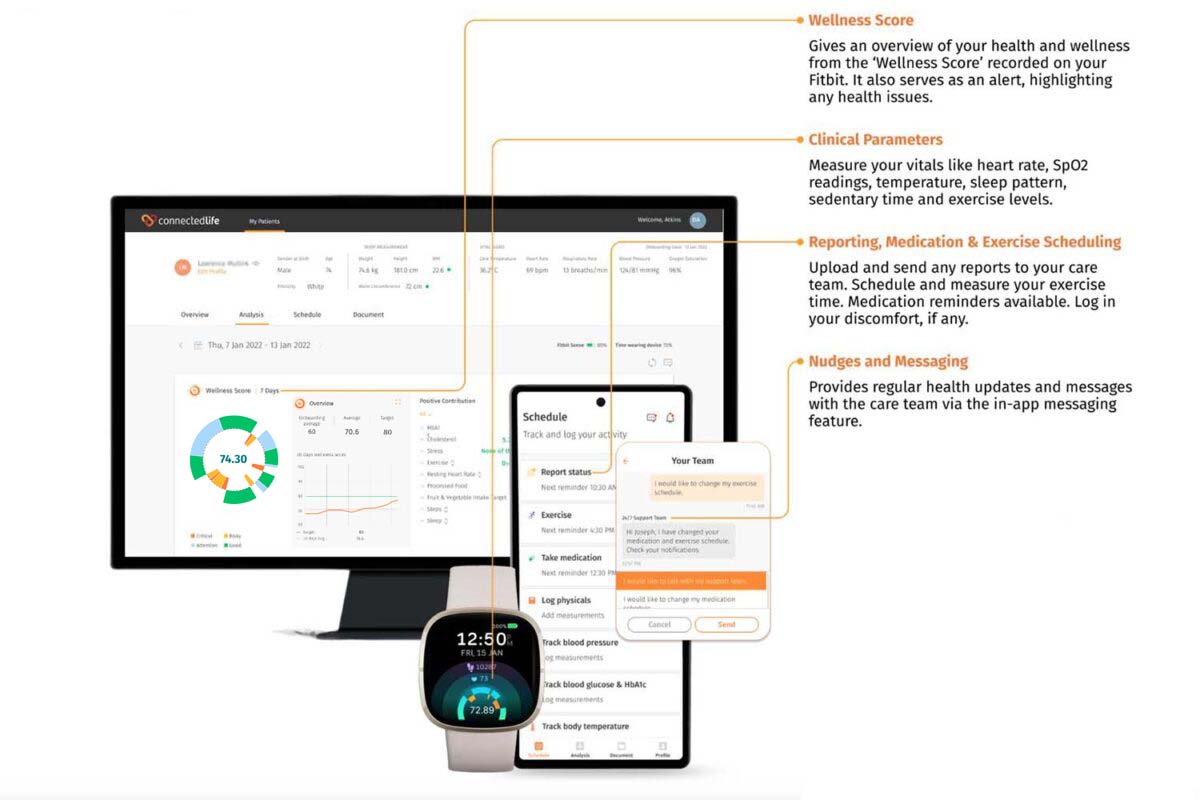 Wellness Plus Solution Can Be Fully White-Labelled
Solution can be tailored to mirror your brand guidelines. From colourways, to logos to imagery, it can reflect your brand image and personality.
Measurable results to improve the lives of Users
Hospital Admission Rate
Support users throughout their wellness journey with more touchpoint, without the cost of additional hospital visit
New User Engagement
Personalised care based on real-time data translate upto 70% engagement rate of referred / identified health conditions users
Evidence-based outcome
Over a quarter of transition users promoted to conservative care from chronic condition to improve outcomes
*Note: The statistical information provided is based on responses collected through the Digital Health Survey conducted in 2022. The purpose of sharing this data is to provide insights into trends and perceptions related to digital health practices during that specific period. While wearable devices hold promise in minimising hospital costs through improved monitoring, preventive care, and data-driven decision making, the implementation and outcomes may vary. Readers are advised to interpret the statistics within the context of the survey's scope, methodology, and limitations.
Powering Proactive & Personalised User Care
Take personalized healthcare to the next level with access to evidence-based data designed to provide efficient healthcare solutions to every user. Wellness Plus promotes patient adherence to therapy and provides care teams access to a broad range of health, wellness and activity data; allowing them to work closely with their patients to manage their conditions, detect health risks, and preventing the worsening of conditions and potential diseases from developing.
Unique and dynamic wellness score as a motivational tool to drive behavior change
The wellness score provides insights into an individual's well-being and potential health risks, to help improve health outcomes
Positive and negative contributors to score
Data is integrated from Fitbit, vital signs monitoring devices and self-logged data to highlight areas of concerns based on peer-reviewed Hazard Ratios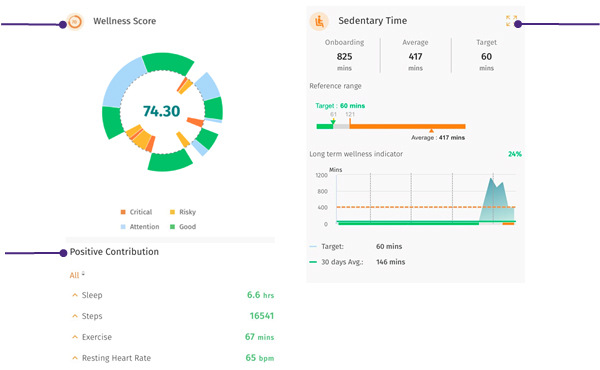 Detailed breakdown of individual parameters allow for users to take action to improve their wellness scores
Users are given a reference range for each parameter from when they onboarded to target ranges based on long-term wellness indicators
TRACK HEALTH AND RECOVERY
Wellness Score Gives An Actionable Insights To Make Informed Decisions
Our single, innovative Wellness Score enables users to better understand and proactively manage their overall health through a simple dynamic score to minimise future risks and maximise health. Each score is unique and changes based on what you do everyday.
Wellness Score motivates users to initiate positive and sustained behaviour change building on Fitbit's four pillar behaviour change model:
ASSESS AND CAPTURES KEY HEALTH DATA
Remote Monitoring & User Engagement
A dedicated 24/7 Customer Service helps monitor users for improved proactive care.
A set of clinicians manage each patient cohort based on risk profile
The PSO team secures a care plan for sending out 'reminders', 'follow-up' actions, 'scheduling' of medications & exercise
In event of a health emergency, the  remote care team alerts the clinicians and transition to hospital care  is seamless
The patient is discharged earlier from hospital to recover in the comfort of their home
Improved health outcomes by enabling users to be connected to their care team and proactively engaged in managing their health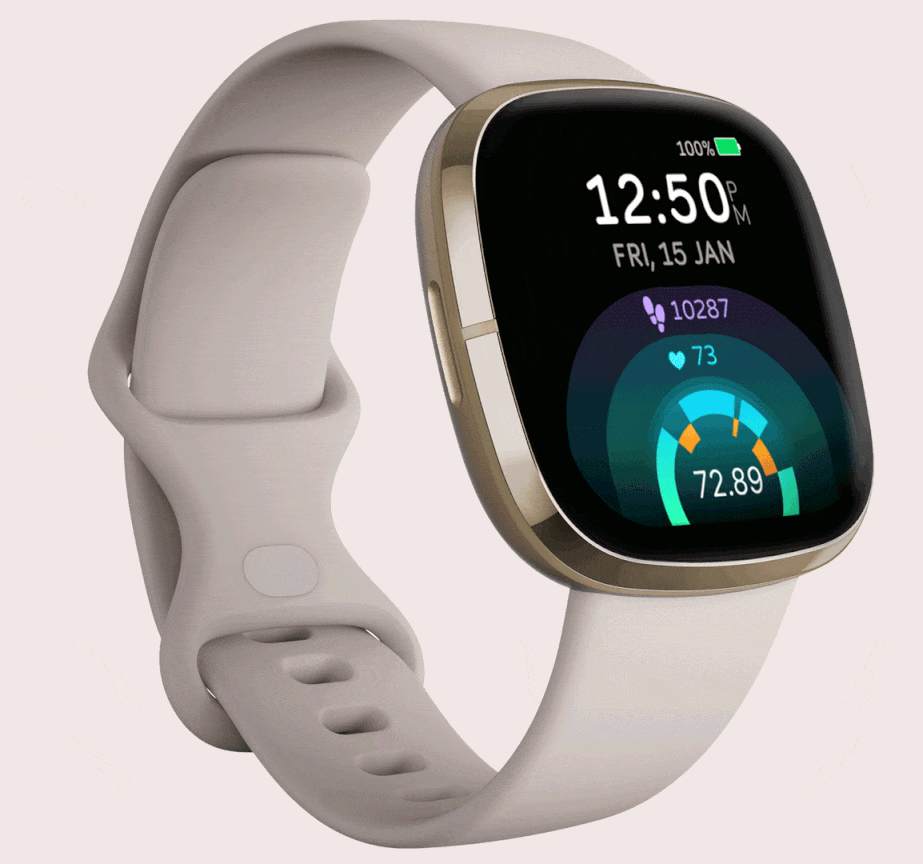 Drive patient outcomes on a digitally connected wearable device
The smartwatch device integrations enable users to connect their favourite wearable and app to sync automatically for a seamless and secure tracking experience. ConnectedLife Clock Faces for Fitbit smartwatches enable the logging of exercise, symptoms, discomfort, medication and health vitals . It track activity and increase productivity in real-time.
The Clock Face can provide relevant Notifications and Confirmations to help keep a track on recovery.
Build An Empowering Culture That Lead To A Healthier & Productive Workforce
Wellness challenges are an excellent way to develop new healthy habits across the entire spectrum of wellness workplace.
Our Wellness platform delivers a customisable and complete wellness program to support employees in their wellness journey. We've helped many enterprises with our flexible platform that easily adapts—even in times of great change—to employees' unique and evolving needs. We assist corporates on wellbeing of the workforce by keeping them engaged and active with our end-to-end challenges.
Key Features of Wellness Plus
A Simple way to monitor users remotely
Frequently Asked Questions