A Scalable Solution to Ease Pandemic Pressure off Healthcare Systems
In October 2020 through to January 2021 ConnectedLife and Apollo HomeCare undertook a pilot to evaluate the feasibility of using wearables to remotely monitor COVID-19 positive patients who were either asymptomatic or displaying mild symptoms.
The pilot studied a sample of Apollo HomeCare patients across Delhi, Hyderabad, and Kolkata, and assessed how off-the-shelf consumer smart health wearables like Fitbit and Garmin coupled with ConnectedLife's proprietary platform and applications can be used to gather and assess relevant symptoms and health vitals data to help Apollo HomeCare remotely monitor, plan and manage the care of their COVID-19 patients at home.
Apollo HomeCare is part of Apollo Hospitals Enterprise Ltd., Asia's foremost integrated healthcare group, with a presence of 71 Hospitals, 3,400 Pharmacies, over 90 Primary Care clinics and 150 Diagnostic centres; as well as 110 Telemedicine centres, 15 medical education centres, and a Research Foundation.
The ConnectedLife enterprise-ready cloud was deployed as a managed application in Apollo's own Microsoft Azure subscription, ensuring the organisation had full control, custodianship and accountability of the application and data. Fitbit devices were distributed to patients via cost-efficient logistic channels, and ConnectedLife provided virtual onboarding and training to project team members and the care team of Apollo HomeCare at each location.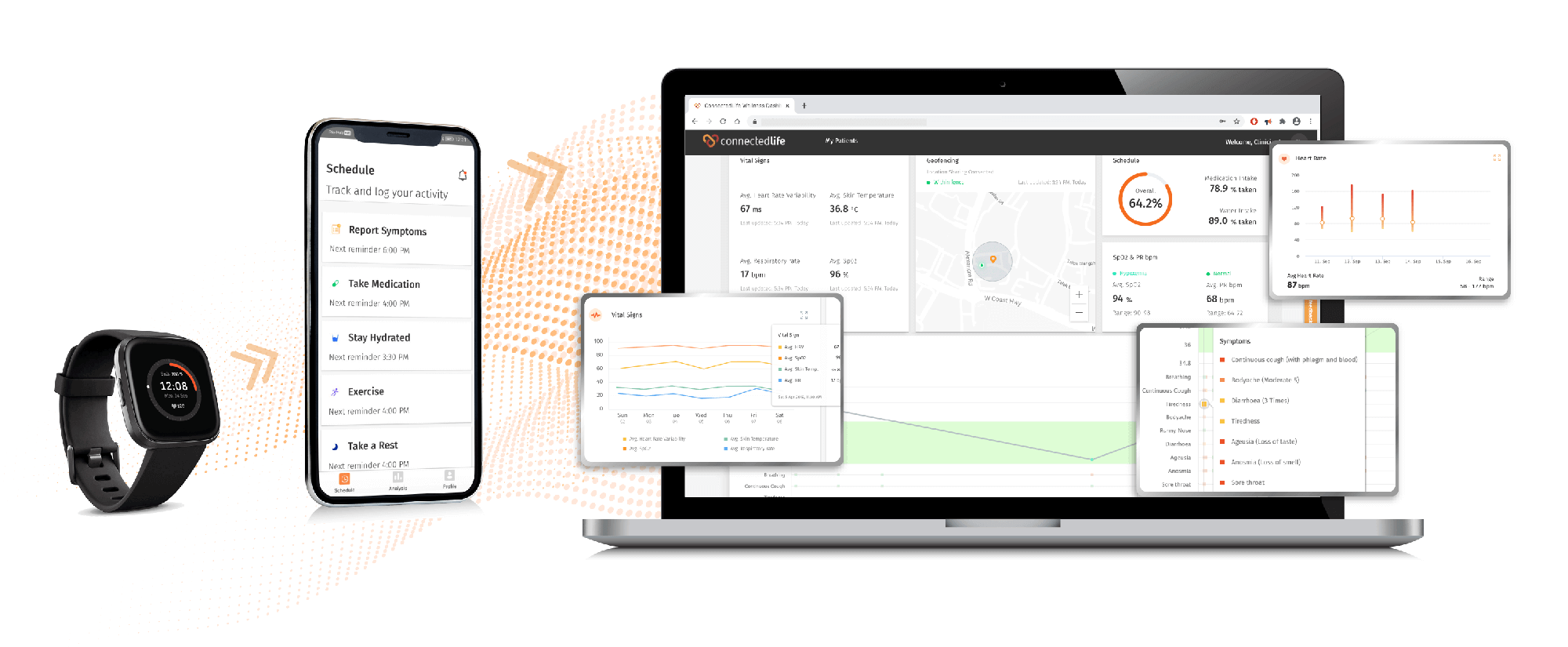 Patient information is safeguarded in accordance with HIPAA and GDPR guidelines, and the code of medical ethics regulations by the Medical Council of India. In addition to self-logged symptoms and care regime compliance, the wellness and health data made available to Apollo HomeCare through ConnectedLife's clinician dashboard included oxygen saturation (SpO2), breathing rate, resting heart rate, heart rate variability, skin temperature variation, sleep (including deep, REM and restlessness), and activity levels. Data collected was benchmarked against conventional methods for cost effectiveness, comfort, compliance, and ease of use of wearable devices; as well as the accuracy and usefulness of the wellness and health vitals data gathered.
ConnectedLife's algorithm triages COVID-19 positive patients for clinicians based on the symptoms and vitals, so attention was focused on where it was needed most thereby helping Apollo HomeCare improve the productivity of their nurses and clinicians, and relieve pressures placed on healthcare service providers during the pandemic.
For more information, please contact us.